The Winfield School
We can say that everything started in 1963. France was suffering from a significant shortage of good pilots, so Jean Bernigaud helped by Sport-Auto magazine decided to create a Jim-Russell course in Magny-Cours. This course benefiting from a great success in Great Britain was a world reference in term of competition training.
After several months of negotiations, the course is exported and settled in Magny-Cours in February, 1963. The school is inaugurated on May, the 28th.




First school's buidings >



It is then decided that a single-seater car will be offered for the 1964 season to the best student of the 1963 course. The « Volant Shell » is born. Bill Knight, former pilot and race organizer, buies the name and the right of this course and finance it. The success is ensured for this first year because there is already 300 students registered. For the anecdote Jean-Pierre Jaussaud is elected 1st " Volant Shell".
In 1964, Bill Knight decides to replace the name of "Jim-Russell" by « Winfield » in relation to his company named « Winfield Mortor Racing Schools Limited ».
Good friend of Bill Knight, Tico Martini arrived in 1963 replaces Henry Morrogh as school director in May1965. Tico, who will have a significant impact on the circuit, was born in 1934 in Pigna. He is native from Italia. With a background of garage mechanic, he is very soon attracted by car sports.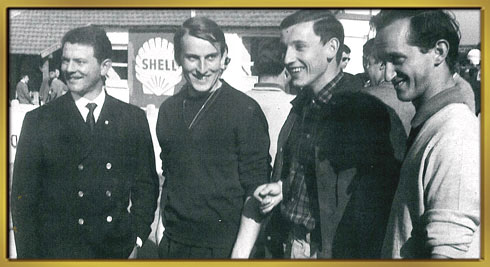 The three first "Volants Shell" ( J.-P. Jaussaud, C. Vigreux and J. Weber) and Tico
A few changes are operated in 1966, when Bill Knight decides to quit the business giving his shares to Mike and Richard his two sons and to Tico. Mike also becomes instructor at the school
.In 1967, bored by the bad performances of the cars used by the school, Tico decides to start to produce his own competition cars. His first car is called MW1, M like Martini and W like Winfield.
| | | |
| --- | --- | --- |
| | | There are numerous talented pilots in the school. That is why, to give another chance to some good pilots who did not manage to win the « Volant Shell », the Winfield School decides to create the « Trophée Winfield » in 1968. The first pilot to win this trophee is Jacques Laffite. |
| | | |
| --- | --- | --- |
| Tico Martini gives his last advice to J. Laffite | | |
From Jean-Pierre Jaussaud to René Arnoux, through José Dolhem, numerous future great pilots will succeed at the « Volant Shell » in Magny-Cours. Then, after 11 editions this distinction disappear in 1974 and is being replaced by the « Pilote Elf ». The concept remains the same but the sponsor is changing. Yves Le Strat becomes the 1st Elf pilot.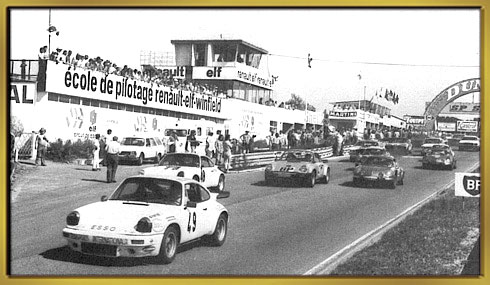 The school in 1975
The Winfield School building is today the only building still remaining.
"Wheels" list until 1991
| | |
| --- | --- |
| | VOLANT SHELL |
| 1963 | Jean-Pierre Jaussaud |
| 1964 | Jacques Weber |
| 1965 | Claude Vigreux |
| 1966 | François Cevert |
| 1967 | François Mazet |
| 1968 | Jean-Luc Salomon |
| 1969 | José Dolhem |
| 1970 | Guy Dhotel |
| 1971 | Bernard Béguin |
| 1972 | René Arnoux |
| 1973 | Patrick Langlois |
| | PILOTE ELF |
| 1974 | Yves Le Strat |
| 1975 | Frédéric Watelet |
| 1976 | Jean-Claude Perrin |
| 1977 | Alain Ferté |
| 1978 | Alain Neyrial |
| 1979 | Kurt Thiel |
| 1980 | Patrick Saulnier |
| 1981 | Cathy Muller |
| 1982 | Dominique Dupuy |
| 1983 | Michel Trollé |
| 1984 | Jean-Luc Palis |
| 1985 | Franck Fréon |
| 1986 | Olivier Thévenin |
| 1987 | Olivier Caekebeke |
| 1988 | (work on the circuit) |
| 1989 | Christophe Tinseau |
| 1990 | Jesse Bouhet |
| 1991 | David Dussau |
Hugues de Chaunac and ORECA
The first rocks of ORECA (Organisation-Exploitation de Courses Automobiles) are set up in 1972. Hugues de Chaunac, R8 Gordini and then Formule Renault pilot, decides to stop racing to create his company. However he doesn't leave the car competition world because the company he wants to create will be dedicated to racing car maufacturing.
After several years spent in Paris and a first contract with Elf, ORECA moves to Magny-Cours in 1975.
| | | |
| --- | --- | --- |
| This year marks a first success for Hugues de Chaunac since he is team manager of the Martini team that wins the European Champion title in F2 with Jacques Laffite. | | |
From left to right : Tico Martini, H. De Chaunac and J. Laffite


Photo Credit: Bernoud SAM
Fort de ce premier succès, il parvient à décrocher un nouveau titre en 1977 toujours en F2 avec cette fois-ci René Arnoux.


< H. De Chaunac with R. Arnoux and D. Pironi running for the title
| | | |
| --- | --- | --- |
| Photo Credit: Bernoud SAM | | |
He will even tempt the F1 adventure in 1978, experience that will not be succesful. In Formule 3, he will also be several times French Champion notably with Alain Prost in 1978 and 1979.
Later on, ORECA will diversify its activities by becoming at the same time a racing Team (F2, F3, FR, F3000, Rallye, Production) and a company importing and distributing racing cars' spare parts.
In 1987, the year before the Jean Behra circuit destruction, Hugues de Chaunac decides to move and come to set up his company in Var, in the Paul Ricard circuit. It is also the time he chose to diversify again ORECA's activities. He decides to sell sports equipment and accessories, and to develop merchandising activities but also to engage its company in the event sector by organising incentives and pilot courses for companies and individuals.
In the mid 1990's, ORECA start a partnership with Chrysler for the conception of the Viper. This experience will allow them to develop their expertise in high technology. In Viper, Oreca will arrive three times first(1997,1998, 1999) of the teams GT2 ranking in FIA-GT Championship. They also have good results in the Le Mans 24Hours with a notably a good 7th place in 2000 at the general ranking.
In 2004, ORECA buies the SNBE company to Dany Snobeck. This company is specialised in engines conception, and in 2007 they also buy "Courage Compétition" .
ORECA, it is today a group with 200 employees spread on 4 different sites : Le Castelet, Magny-Cours, Le Mans and Paris. One of the best success in the racing car industry, still efficiently managed by Hugues de Chaunac.

H. De Chaunac with two of the 2006 GT-FFSA pilots >
| | | |
| --- | --- | --- |
| | | Source : http://news.caradisiac.com |
Dany Snobeck and Snobeck Racing Service
| | | |
| --- | --- | --- |
| | | Dany Snobeck starts his pilot career in 1970 with the R8 Gordini Cup. In 1971, he takes part to the R12 Gordini Cup, in 1972, he starts racing in Rallye and in 1973 and 1974, in Formule Renault. |
| | | |
| --- | --- | --- |
| D. Snobeck engaged in the Formule Renault Championship | | |
Like Tico Martini and Hugues de Chaunac, Dany Snobeck, racing car pilot, also decided to create his company close to the Magny-Cours circuit. He founds the « Snobeck-Groupement Sportif Mécanique » company in 1978, company that will become Snobeck Racing Service in 1980.
In 1980 and 1981, the company will be in charge of the Ford preparation, and from 1982 to 1984 Dany Snobeck will work for Alfa Roméo, being more specifically in charge of the GTV.

From 1985, Dany decides to engage with the German car manufacturer Mercedes. This partnership will lead to numerous successes.
Mercedes will win the car manufacturer title in Production in 1986 and Dany also win with Mercedes his two Andros Trophees (1991/1992 et 1992/1993).



Dany Snobeck on the Andros Trophee during the 1992-1993 season >
| | | |
| --- | --- | --- |
| | | Photo Credit : S. DESNOULEZ |
In 1996, the companies changes its name for SNBE-Snobeck : SN for Snobeck, BE for Béchu, the name of his partner Jean-Pierre Béchu who becomes the company's director.
From 2001 to 2003, Dany Snobeck is director of the Dijon-Prenois circuit.
In 2004, SNBE becomes a ORECA's subsidiary. The company renamed « Oreca Magny-Cours » becomes the group's "engine" subsidiary and keeps working with Citroën Sport, Seat Sport, Porsche France and theMagneti-Marelli network by focusing on the engine development.
2004, is also the year Danychooses to create his event company called « As Events », company specialised in car sports.

Unlike Tico Martini and Hugues de Chaunac, Dany Snobeck did not stop himself to race.
His latest victory at the 60th Rallye Lyon Charbonnière last April proofs he is still at the top level!

< Dany interviewed after his victory
| | | |
| --- | --- | --- |
| Source : www.ledauphine.com | | |
The Ligier Team
Former international rugby player, Guy Ligier really starts to mark the French motorsports in 1959 and 1960 when he manages to win two French Moto Championships titles. His popularity and performances go increasing and in 1966 he manages to become F1 pilot.




G. Ligier driving a Cooper during the F1 Grand Prix of Monaco in 1966
Source : http://atlasf1.autosport.com
It is In 1968, while he decides to create a Formule 2 Team with his friend Jo Schlesser, that his racing car manufacturer career is really launched. Unfortunatly , Jo will tragically die following an accident on he French GP. Guy Ligier will nevertheless choose to pursue their adventure and produces in 1970 the Ligier JS1 (JS refering to his died friend). He will pilot this car at the Le Mans 24Hours with Jean-Claude Andruet.
Following the creation of Automobiles Ligier, his car production will increase. Around ten JS2 will be engagned in the Le Mans 24Hours from 1971 to 1975 with notably an excellent 2nd place obtained in 1975 with Guy Chasseuil and Jean-Louis Lafosse driving. The JS2 adaptability qualities will be recognized because it will also win the 1974 Tour de France Auto edition.
The Ligier Team keeps growing up by becoming the SM Maserati assembler for Citroën, and in 1976, a new step is crossed with the birth of the F1 Team.
For his first season, thanks to his pilot Jacques Laffitte (7th at the general ranking), the Ligier Team will haul up to the 6th place of manufacturer podium.
< G. Ligier and J. Laffite
| | | |
| --- | --- | --- |
| Source ; J.-P Gosselin (1976) Guy Ligier | | |
The Ligier adventure in F1 will last 20 years. 20 single-seater cars will engage on 326 Grand Prix. The Ligier Team will notably win a great second place at the manufacturer's ranking in 1980.
The final balance will be 50 podiums and 9 victories including the last one but not the least, Olivier Panis' one at the Monaco's Grand Prix in 1996.

O. Panis wins the race with his Ligier JS43 >
| | | |
| --- | --- | --- |
| | | Source : www.olivier-panis.com |
In 1997, Guy Ligier decided to sell his Team to the 4 time World Champion Alain Prost, but the Prost GP adventure will end in 2002, after 5 seasons.
Not prepared to leave the car competition world, Guy Ligier decides to start a partnership in 2004 with an important character of the Magny-Cours story, the famous Tico Martini.
The Ligier/Martini partnership is fruitful, in 2005 the two racing car manufacturers are back in the competiton in Formule 3 and Sport Prototype. In Formule 3, they nourish hopes to the JS47 meanwhile the Ligier JS49 (Sport Prototype) takes part to the event ending the "Challenge Sprint Moderne" in Magny-Cours and the sucess is already there because the car ends in second position.
Inspired from Racing News VdeV N°008

Source and acknowledgment: Jean-Louis BALLERET (1993)
Magny-Cours 30 ans de courses ! , S.I.N. PHOBOS Edition