You will find bellow all the possibilities for accommodation
near the circuit of Magny-Cours.

- Hotels and Castles

- Chambres d'hôtes et gîtes
Other links :
Chambre d'hôtes.org
Gîtes.fr
Hôtels.com
Trip advisor.fr
Office du tourisme de Nevers
Office du tourisme Saint-Pierre Magny-Cours
Circuit de Nevers Magny-Cours

Various public catering outlets (refreshment, sandwich bar, food trucks ...) will be available inside the Magny-Cours circuit of the site.
The "picnic" are also allowed.
Warning: There is no cash machine on the circuit.
A Camping zone will gracefully be put at the disposal of participants, exhibitors and spectators, in the enclosure.
Please note this is not a camp, comfort is not the same.
Click here for location
No one can sleep in the paddock.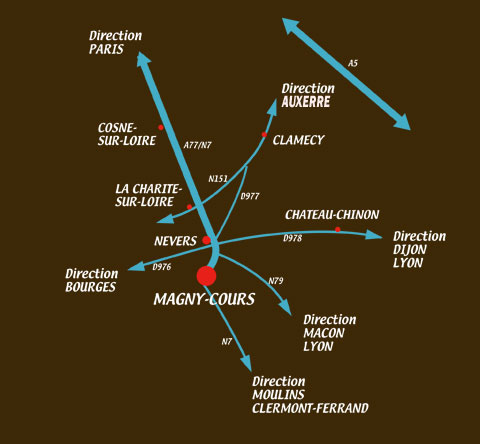 The Circuit is located 15 km (10 miles) south west of Nevers,capital city of Nièvre in Bourgogne. A charming city listed "of artistic and historical" interest, on the banks of the Loirs river , halfway between Paris and Lyon.