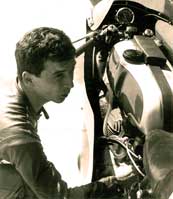 Jean-Pierre Beltoise was born on the 26th April 1937 in Boulogne Billancourt, where he spent a quiet and happy childhood. He quickly developed a passion for mechanical machines. And if we know his tremendous track record in automobile, he has known, before that, a good reputation as a motorcycle rider.
He made his first laps on a motorcycle in 1955. Between 1961 and 1964, he won no less than 11 titles of Champion of France Moto Speed in various categories. On the same day, he happens to run on several brands (Morini, Bultaco, Aermacchi and Matchless) and several cars. Moreover, he become the first 4 times in the Criterium Speed FGM Montlhery 1962 in 125cc, 175cc, 250cc and 750cc. His talent explodes in 1964, J.-P. Beltoise is the first French motorcycle rider to sign a victory at Le Mans since 1929 (on his 500cc Matchless).

As a curious and passionate man in mechanic, he naturally will turn to the automobile. Starting his career in parallel of motorcycle. This is René Bonnet which allows him to make a great entrance in motorsport in 1963 winning Energy Index of 24 Hours of Le Mans. In 1964, he competed in the 12 Hours of Reims in a René Bonnet prototype. Trapped by a trail of gasoline from his car barrel and eventually ignite completely. He loses the use of his left arm at the elbow locked. Accident put the end to his motorcycle career. These 10 months of hospitalization have not defeated his courage and determination. He convinces Jean-Luc Lagardère to engage him in Matra Sports team and be crowned Champion of France F3 in 1965 . This is the beginning of a great career "all categories" to the side of Matra which lasted until 1975. Of the 5 titles of Champion of France F1/F2 stable, J.-P. Beltoise holds 4 prices alone on 4 consecutive years (1966-1969). The fifth will be won by Henri Pescarolo teammate in 1970.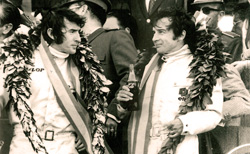 Winning his first Grand Prix in Germany (F2) in 1966 and the Monaco F3 Grand Prix, he beat this year, the best in his class as Jim Clark and Jackie Stewart. In 1968, he succeeded Jacky Ickx and became European Champion F2. If it starts quietly the F1 in 1967, his potential became public in 1969, one of his best years in charts: he finished 2nd in the F1 GP of France, 5th World Championship F1 (Matra MS10 - MS80 - MS84), Champion of France therefore F1/F2 and winner of the third Deutshland Trophäe F2, winner of 1000km of Paris with Henri Pescarolo on Matra 650/01 and finished 4th in the 24 Hours of Le Mans. In a beautiful ascent, he will win the 1000 km Buenos Aires with Pescarolo again and the Tour Auto, alongside Patrick Depailler and Jean Todt in 1970.
In the 70's, J.-P. Beltoise reached a good reputation both for his outspoken than his performances . Everything could be compromised permanently in 1971 , during the 1000km of Buenos Aires, when Ignazio Giunti strikes his down Matra. He miraculously escaped unharmed. The Italian unfortunately find death in this terrible accident. Lagardère pay dearly to move out J.-P. Beltoise of the Argentine territory. Following the case, the FFSA suspend him for three months. His mishap in F1 due to multiple mechanical problems and many abandonments earned him the nickname "Bébel the rubbish".

It should be noted that with his disability it's in the wet that he can really express himself. So he will know his glory day , in the rain, May 14th 1972 at the Grand Prix of Monaco on the BRM P160B (team with which he has committed the same year). That day he ousted Jacky Ickx , the other specialist of rain. "My victory has closed the mouth to all those who called me cracker. And since I have not heard nasty things about me as a driver," he refers to Gilles Liard. He will drive for the british team until 1974 where he will play his last F1 championship.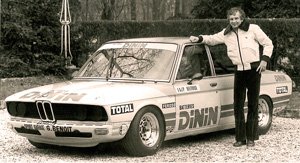 1975, tipped to drive the first Ligier Formula 1, the JS5, he will ousted by Guy Ligier. The career of Jean-Pierre Beltoise takes two major new directions : the Production category (Touring equivalent) and 24 Hours of Le Mans with Inaltera adventure (1st in GTP category in 1976, 8th overall). He won the title of champion of France with BMW in 1976 and reiterated this feat the following year. He beat many F1 drivers on identical cars (Lauda, Stück, Giacomelli). Between 1976 and 1990 he won 26 victories in National GT (with BMW first, then Peugeot from 1980 to 1987, Citroën from 1988 to 1989 and finally Mercedes in 1990). He will also try to Rallycross in 1979, when he was crowned Champion of France with the Alpine A310. We totalise 8 national victories in this category. After his appearance on the Andros Trophy 1992-1993, he will play his last season of racing with Porsche Carrera and finally hang up October 31th, 1993.
Jean-Pierre Beltoise, a real passionate in motorsport in all its forms, has naturally paved the way and inspired today his son Anthony and Julian, and his nephew Vincent. Strength, courage and détermination, have marked this great career. Driver still controversial, he is now involved in the Association for the Defence of Citizens motorists. He preaches "good citizen behavior" to the general public and is responsible for building the circuit of Haute Saintonge (inaugurated in 2004) designed in a spirit of sustainable development.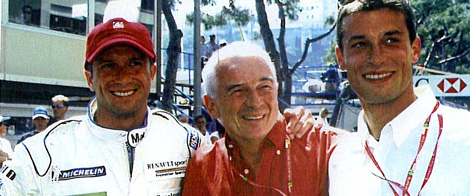 Sources : "Jean-Pierre Beltoise, mon album photo" - L'Autodrome Editions - 2011