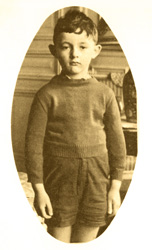 Born in Paris September 25, 1942, Henri PESCAROLO is a quiet child. He often isolates himself and find happiness driving one of his father's car, whom he observed the driving technique carefully. He knows exactly what to do, so much that he learns to drive alone the 203, at 9 years old. At 15 years old, he already dominates the vehicle, but he never observed racing, he plays slippages in the yard of the family home.
Henri PESCAROLO has piloting under his skin, whether on the floor or in the air (1st Air flights at 16, 1st aerobatics over 18 years old). He devoted himself to learning medicine but he has many difficulties to follow his studies because of the loss of her mother. His father, himself a doctor, and knowing his growing interest in the motorsport, realizes that he pushed his son in the wrong way. He proposes to his son to share the wheel of his Dauphine for the La Baule rally in 1962. No results this day, nevertheless this event will trigger his racing career.

This is AGACI (General Association Automobile Running Freelance) that will reveal the talent of Henry PESCAROLO. He is the most talented driver in his class (where we notice the presence of Patrick Depailler and José Dolhem). Fast and imperturbable, Henry played his first championship with 3 wins, driving his Lotus Seven in the Cup of Provinces (1964-65).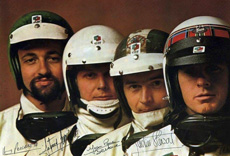 In 1965, Matra is involved in motor racing and recruits many young talents of whom Henri PESCAROLO, who gets that year the third driver position in Formula 3 team, with Jean-Pierre Jaussaud and Jean-Pierre Beltoise. Tenured in 1966 (the first year of its participation in the 24 Hours of Le Mans) and beaten that year by his new teammate Johnny Servoz-Gavin, he finally won the F3 championship of France in 1967 with no less than 11 wins.
Prominent, Henry PESCAROLO begins in the European Formula 2 Championship with his teammate Jean-Pierre BELTOISE. He finished second 5 times before winning his first race in Albi and win the title of Vice-European Champion and Vice-Champion of France F2 in 1968. It will attempt the same year for the 3rd time at the 24h of Le Mans and for the first time in F1.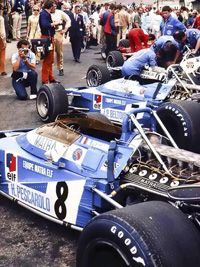 In 1969, the series of victories will be violently interrupted by a very serious accident during the private test in Le Mans on the Matra 640 that flies in line to fall back into the forest that borders the track. If Henry PESCAROLO believed to die that day, he comes out with very serious burns and fractures to the spine. It will resume competition from summer and managed to place in 5th place overall (GP Germany) with his Matra F2 against other F1 and won the 1000km of Paris late in the season with Beltoise.
Matra the established in Formula 1 in 1970. He finished 3rd in the GP of Monaco and will stall the title of champion of France F1 and F2. But for the F1 team, his season remains generally disappointing and Matra decided to replace him by Chris Amon. The following season, Henri PESCAROLO is recruited by the modest team of Frank Williams. The fragility of the March 711 committed will give a succession of bad results. We will remember his 4th place in the GP of Great Britain in 1971 and his lap record at the Italian GP that year. The 1972 F1 season will not be brighter. The car is less efficient, Henry PESCAROLO suffered several accidents he always come out unscathed. It will only lead a few times in 1973 before returning to the team BRM the following year, less efficient, which will, once again, a big disappointment for French. He abandoned the F1 races in 1976.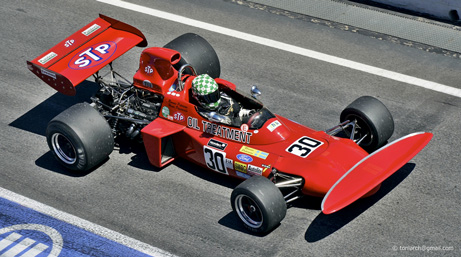 It's in Sport Prototype as the series of big wins will start with Matra. He won three consecutive victories in the 24 Hours of Le Mans with Graham Hill in 1972 and Gérard Larousse in 1973 and 1974. Matra wins since the Constructors' Championship and will continue the competition that F1 as an engine supplier.

In 1975, Henri PESCAROLO won his first title of champion of France circuits after three victories with Alfa Romeo (Spa, Zeltweg, Kyalami). He won his second title in 1978 driving his Porsche to the Kremer Racing. Henri PESCAROLO not win again Le Mans event 10 years later, in 1984, in the Jöest team.
Therefore he will sign his fourth victory in the 24 Hours of Le Mans with a Porsche (to date, only Jacky Ickx and Tom Kristensen managed to do better). He became again champion of France circuits and won the Porsche Cup in the same year as best privateer driver of World Endurance Championship.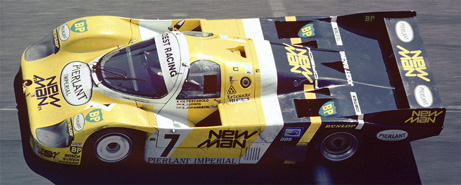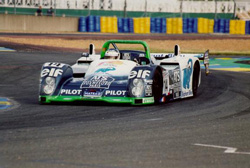 1000 km of the 1986 Nürburgring spend his 17th victory in the World Sports Prototype Championship. He finishes 3rd in France Sports Prototype Championship 1989. He made a very good season in the United States in 1991, still with the team Joest, where he won the 24 Hours of Daytona and finished 3rd in the 12H of Sebring. If he participates every year (or near) at Le Mans event, he did find more on the podium, but honorable places (6th in 1989 and 1992 but 1st place naturally aspirated engines, 7th in 1985, 1991 , 1996, 1997 and 1998). He made his last participation at Le Mans in 1999 where he finished 9th with his Courage C50.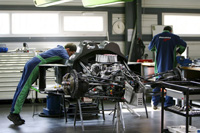 Henri PESCAROLO has also shown a lot by working with young drivers to learn their job. The story begins in 1994, when ELF decided to put him in charge of his training structure: The Pathway.
Recovery by the FFSA in 2000, Henri PESCAROLO continues its commitment by creating his own team, Pescarolo Sport cars and engages in major endurance races. He developed his own car in 2004. The Pescarolo-Judd arrives at Le Mans 4th, 4th of Le Mans Series and won the championship of France Sport Prototype. If Audi remains unbeatable, the team will release second of the Le Mans 24 Hours in 2006 and be comforted by winning the Le Mans Series.
Henri PESCAROLO still remains a popular driver, including the general public appreciate the simplicity, relevance and righteousness. He plans everything with calm and lucidity, even in difficult times of his life.
« Success or failure, nothing seems to touch Henri Pescarolo. The success appears to him as a normal consequence of its activities. Failure is its counterpart. » - J. RIVES –
Source : Pescarolo : Histoire d'un homme secret - J. RIVES