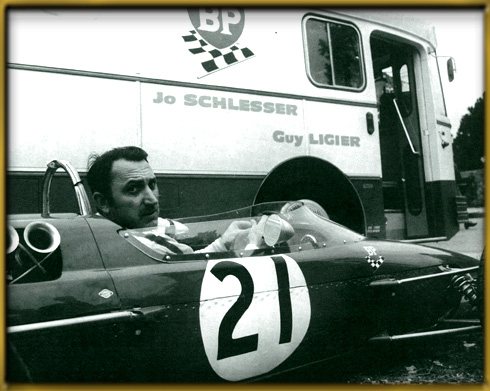 In 1965, Jo SCHLESSER and Guy meets around a table and between them will birth a deep and loyal friendship. Jo will join the Ford France Team for which they are both pilots.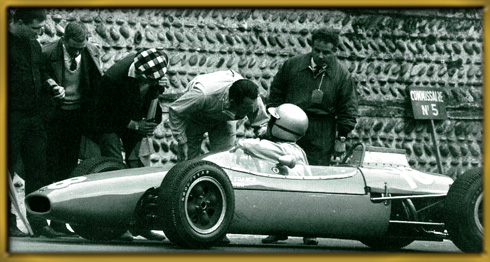 1965, Jo advises Guy (at the steering wheel of a Formula Junior)
Jo assists Guy to acquire its first Ford GT40 to participate in endurance events, and together they win the 12 H of Reims in 1967. On the Nürburgring track, Guy has a serious accident (147 breaks) and is close of death. But his friend Jo supports him and organizes his repatriation to specialists in French hospital. Thanks to him he will not be amputated of his right leg. In 1968, Jo introduces the idea of making their own race cars.
Unfortunately, on July the 7th of 1968 while rocking !
Weekend off (one of the few) for Guy who, exhausted, not even the strength to accompany his friend Jo on the track of Rouen.
During the tests, he performs a head to tail with the Honda on which he runs. To this new, Guy feels worried for this race but his friend wants to reassure him: "Don't worry for me my friend, it will be resolved..."
A few hours later, Guy is devastated... his premonition came true.
In the turn of six brothers, the pilot lost the control of the Honda who exploded in a burst of flames... Jo tragically disappears.
He was a pilot at the forefront of the fight in any discipline: The Tour of Corse on AC Cobra, Daytona ring on Ford Galaxie in stock cars, Le Mans on a Ford GT 40 ... In nothing Jo was afraid . Not even off the road at high speed on the first 40 trials GT during the tests at Le Mans in 1964: a few stitches in the arch and he returned to beat the lap record at the wheel of a cobra.
The first JS1 and others will bear the initials JS in homage to his eternal friend disappeared.